Panzerfaust 60 m
---
Here the Panzerfaust that comes with "Wolf"

A beautifull piece of work if you ask me. There are however a few remarks I want to add here : a lot of errors in the text.
To be honest, a lot of the text is pure nonsens.
I already send an email to Dragon with the correct text, and they said they would look into the matter (well, lets see if they listen to customers :o) )
Also, I will put the correct text here (with thanks to J.M. Harper and Chris Hart (Ozzie Gerhard) who provided me with some extra info)
Lets see, whats all wrong here :

The text here has to be : Starker Feuerstrahl !
only a minor fault butt stil......
Lets have a look .... hmmmmm.... what's this ? Kohr istimmer mir pclver gllon luch vconischclt nulo. ??
Well, my german is pretty good but I can't make something out of this. Also I had trouble finding the correct text on photo's, but after asking a question in the Dragon messageboard I got a reply from mr. J.M. Harper.
According to him the text has to be : Rohr ist immer mit pulver geladen auch wenn Geschoß-
Lets get to the Second line.
Lets see : Kopfabgenommen und Flugelhalteratter herausgezogen ??
According to the next photo this has to be : Kopf abgenommen und Flugelhalter herausgezogen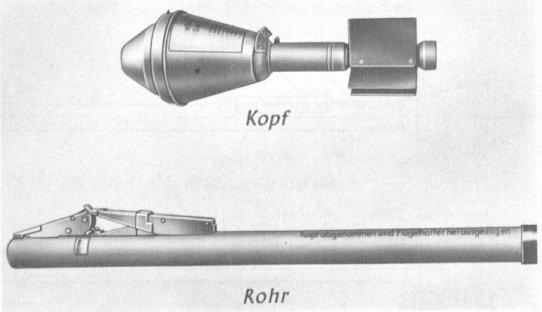 This photo also shows how the "Kopf" (head) and "Rohr" (barrel) look like when separated.
OK , back to the text thing.
The complete text says (and I'll try to translate :o) ) : Be carefull : the barrel is allways loaded with gun powder even when the head with the wings is taken out.
The next thing that has to be examined is the warhead. This shows the instruction how to use the weapon.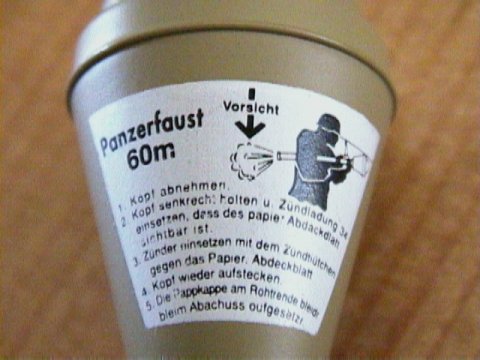 The text here looks pretty accurate but, unfortunately, here too a few mistakes are visible
1. Kopf abnehmen.
This is correct and it means : Remove Warhead
2. Kopf senkrecht halten u. Zündladung 34 so einset-
zen, daß das Papier-Abdeckblatt sichtbar ist.
The mistakes are highlighted in red and the positioning of the text on the head is not entirely correct (it should be as I typed it)
The translations is as follows : Hold the warhead vertical and insert the ignition-charge 34 so that the paper cover is visible.
3. Zünder einsetzen mit dem Zündhütchen
gegen das Papier-Abdeckblatt.
Translation : Insert ignitor with ignitor cap facing the paper cover
4. Kopf wieder aufstecken.
Translation : Put warhead back on
5. Die Pappkappe am Rohrende bleibt
beim Abschuß aufgesetzt.
Translation : The cardboard cover at the end of the barrel(tube) remains in place when firing.
So far the text item on the Panzerfaust, and I do hope that Dragon will correct the text in future releases .
Soon an Item on the use of the Panzerfaust.
---
---