---
Wehrmacht Infantry NCO "Hans"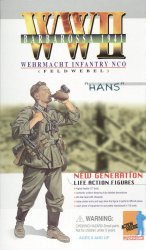 Dragon Action Figure
Click on the picture to see the image of the packaging
( it's 112 Kb Big )
---
Like I promised I will review this figure, and it's going to be an extensive one. The purpose of this is to show everyone how great (I think) this figure is.
---
The review will be devided into several sections, which will highlight every individual piece of equipment.
1. The Figure
2. The Uniform
The M 35 Helmet (Stahlhelm modell 1935)
M 36 Field Blouse (Feld Bluse modell 1936)
3. The Equipment and Weapons
SMG MP-40 (MaschinenPistole 40)
M 31 Field Bottle (Feldflasche)

Entrenching Tool (Klappspaten)
M 38 Gas Mask and Gas Cape (Gas Maske
---
---