The Entrenching Tool (Klappspaten)
---
This is the folding Entrenching tool that comes with the Dragon Figure.
Very little comments here because it is done very nicely. The only comment that I could think of that it can't be removed from the entrenching tool cover, and can't be opened like the real thing.
In appearance however it just looks like the real thing.
The opening on the left side of the tool is for the Bayonet and here's the one problem that I found...., I now know why the Bayonet didn't come with a frog...........
They don't fit together on the waist belt................ :-( sigh.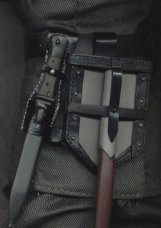 (I have to think of something else now.... I do know that some bayonets come with smaller frogs than the one shown in the bayonet section, but I don't have such a frog..... have to do some studying on that... and ofcourse. any help is welcome here.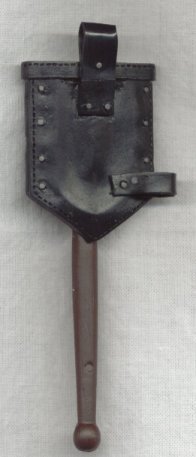 Here a shot of the backside of the entrenching tool.
Great Detail ... this gives a better look on the leather loop where the Bayonet is inserted.
Hopefully Dragon will also release the straight Entrenching tool.
---
---