The M 31 Field Bottle (Feldflasche)
---
The M 31 Field Bottle looks very authentic.

It can be opened, however it's not easy and it does look a little fragile to me. Also the cup can't be removed entirely, because the little strap is glued to the back of the cup.
Here a shot of the backside of the bottle which shows the little ring with the hook to attach it to the breadbag.
A close up of the little hook. It looks very much like the original 1/1 scale field bottle.
| | |
| --- | --- |
| | This is how it looks when the cup is removed from the bottle. Even the inside looks authentic to me, but unfortunately the rest of the straps are fixed to the bottle. |
It looks like a great challenge to me to make it fully functional, but I don't like to destroy the original bottle at this moment.
Maybe in the future Dragon will sell the loose equipment items so customizers could fix them.
---
Update November 01, 1999
It has been a while since this was written, and Dragon has released the German Equipment Set (Dragon Item 71002) which I will review later.
Ofcourse my knowledge has grown since then, and I found out that in fact the Field Bottle is not entirely correct. I get back to you on that
Now first the alteration : The box image of Hans inspired me to make a better looking fieldbottle , I wanted Hans to drink from the bottle as well.
What do we need for this alteration : A plastic M6 screw and a little piece of leather strap
Step 1

Pull off the cup of the bottle

Step 2

Cut off the lid from the bottle

Step 3

Take the M 6 screw and cut off a piece about the same size of the lid. Take a M 4 drill and make it hollow.

Step 4

Glue the little piece of the M6 screw back on and paint it reddish / orange (The inside of the screw can be painted black)

Now it looks like a cap can be screwed on

Step 5

Glue on a little piece of black strap on the position indicated. The purpose is to pull through the strap that comes with the bottle.

Step 6

Glue back the original lid with a little piece of strap, and glue back the original strap on the field bottle.

Now you can carefully pull through the original cup, et voila.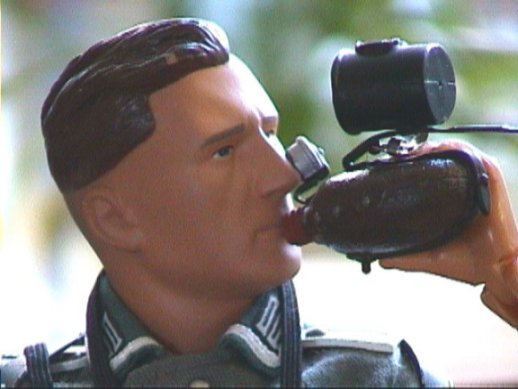 And finaly a picture of Hans drinking from his new bottle :o)
---
---